With sustainable practices, harvesting your timber not only helps you profit from your woodlot, but promotes the natural succession of younger trees in your woodlot and keeps your forests healthy for years to come.
Harvesting your timber at the right time and using the right harvesting method are key to accomplishing these goals!
Timber Harvesting Methods
Timber harvesting refers to the process of cutting down trees and removing them from your forest or woodlot for commercial purposes. A few different methods for timber harvesting include:
Clear cutting is a method where most or all of the trees in a designated area of the woodlot are removed at once, regardless of size or species. The clear cutting method is used before planting new trees, to control the spread of disease, or for commercial development purposes.
This method is known to have the most harmful effect on the local environment and wildlife and is often criticized for this reason. Clear cutting can result in soil erosion, habitat loss, and water quality problems due to the large scale of tree removal. 
We never use clear cutting methods for forest management.
In contrast, selective harvesting is a method where only certain trees are harvested, based on size, species, and condition. Selective harvesting is a sustainable process that promotes the growth of your woodlot by:
Maintaining forest structure.

Selective harvesting leaves the majority of trees in your woodlot in place.

 
Aiding natural regeneration.

By removing mature trees from the canopy, younger trees get the resources they need to grow and develop. 
Minimizing soil disturbance.

Since only a portion of trees are removed, soil disturbance is kept at a minimum, reducing the risk of soil erosion.
Increasing carbon sequestration.

Only removing a selection of trees from your woodlot at one time maintains the forest's ability to sequester carbon.
Planning for the future.

Selective harvesting's goal is the long-term preservation of your woodlot's structure and health. Keeping your forests healthy for years to come will continue to provide both environmental and economical benefits.
At Buskirk Lumber, we use selective harvesting for forest management.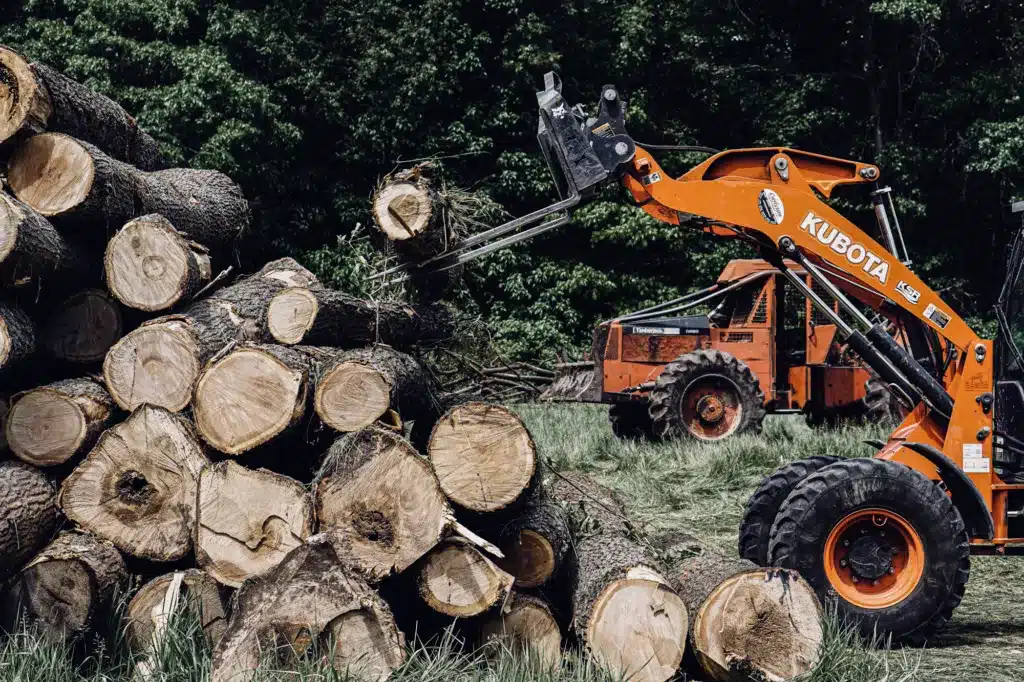 Timber Selection Cutting at Buskirk Lumber
At Buskirk Lumber, we follow a selective harvesting method. Selection cutting has many benefits when it comes to improving the overall health of the stand by removing mature trees from your property to allow higher oxygen-producing trees to take their place in the canopy. 
Other added benefits of our timber harvesting methods include:
Wildlife Benefits.

The vigorous regeneration of undergrowth on the forest floor—and the tops—provides shelter and food for deer and other animals that live in your area. 

Ecological Benefits.

Selective harvesting mimics the natural processes of forest succession by removing mature trees to reduce the competition for light, water, and nutrients among the younger trees. This keeps your woodlot healthy and productive.

Forest Diversification Benefits.

By harvesting select trees and leaving others, our methods of timber harvesting promote a diverse range of tree species and ages in the stand.

Economic Benefits.

By selecting and harvesting only the trees of the highest value and quality, landowners can have a steady, profitable return on each harvest.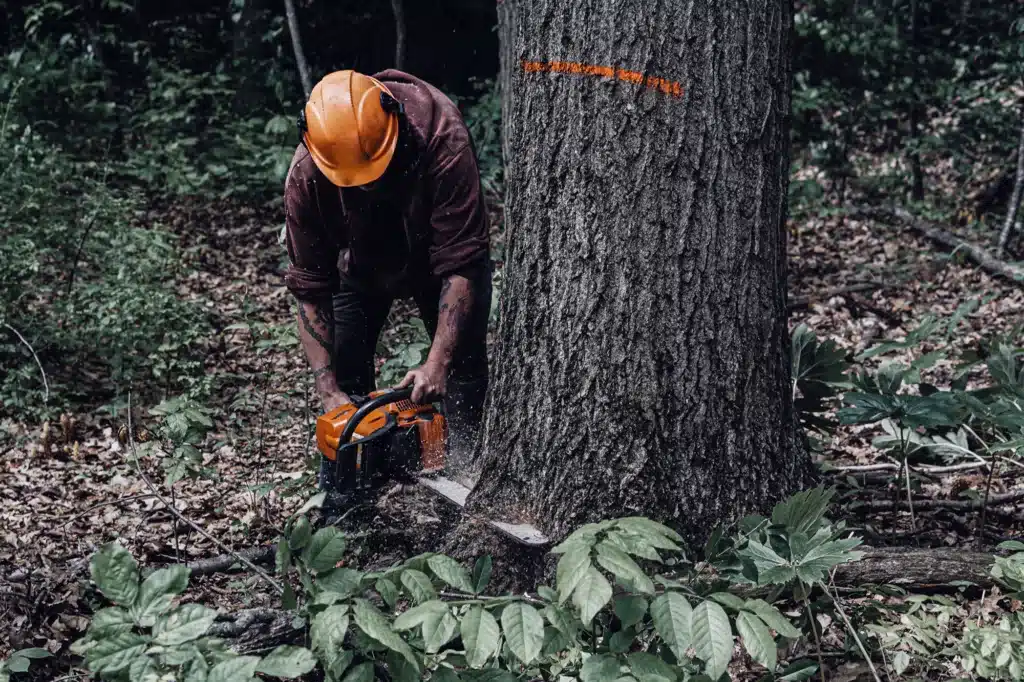 How Often Can You Harvest Timber?
Proper forest management is key to keeping our forests healthy and thriving. We offer forest management and timber harvesting services in order to sustain your property's integrity and wildlife, and most importantly, leave room for younger trees to grow and produce higher levels of oxygen.
Whatever your goals are for harvesting your timber, we provide landowners in Michigan with full forest management services for the best possible outcome for your woodlot. We begin with an evaluation and a select harvest schedule—ideally every 7-10 years. 
We will never suggest or recommend cutting down trees unnecessarily or cutting down trees that do not meet size requirements.
Harvesting too frequently leads to over-cutting and reduced growth rates—and delaying your harvesting makes the stand overcrowded, also reducing growth rates. To find the best frequency for your woodlot, consult with a professional who can assess it and determine a course of action based on your forest management objectives. A professional can also help ensure that the harvesting process is done sustainably to protect the surrounding environment and wildlife. 
Best Time to Harvest Timber
The best time of year to harvest your timber here in Michigan depends on a few different factors, like your local weather conditions and the species of tree. In general, here are a few guidelines:
Climate & Weather Conditions

Generally, the best time to harvest your timber is during the drier months. When the soil is dry, you reduce soil compaction from heavy equipment and prevent root damage to the remaining trees in your woodlot. Harvesting in the winter months here in Michigan is also a good alternative. Because the ground is frozen and snow-covered, you reduce your contact with and impact on the soil below.

Tree Species

Coniferous

trees, like fir, pine, and spruce, can be harvested at any time of year. However, the spring and summer months when the sap is flowing may be ideal for harvesting to prevent damage to the tree.

Deciduous

trees, like oak, maple, hickory, and beech, are typically harvested in the late fall or winter when the leaves have fallen off the tree. With a lower sap level, it's easier to harvest these trees and mill them into lumber.
Ultimately, the best time to harvest will vary by woodlot. Consult with our timber professionals to determine the best course of action for your standing timber based on your location and circumstances.
Developing a Timber Harvesting Plan
The first step to a successful and profitable harvest is developing a plan that outlines the procedure for harvesting your timber. This plan takes into account your woodlot, the surrounding environment, the species of trees to be harvested, methods of harvesting, and the best management practices that will be followed throughout the entire process.
Sell Your Standing Timber
We are cash buyers of standing timber! 
As professional licensed and bonded timber buyers with over 100 years in the industry, Buskirk Lumber has what you need to maintain your woodlot profitably. We seek to build lifelong relationships and partnerships to reach these goals. You can trust us to be professional, and transparent, and to treat your property as if it were our own.
We operate a sawmill, timber procurement and harvesting crew, and a timber/lumber hauling trucking division in Freeport, MI. We travel throughout Michigan, Indiana, and Ohio to buy standing timber, with our assessments varying depending on timber type and quantity. Reach out to us for an appraisal and find out how much your standing timber is worth! 
Selling directly to a sawmill like Buskirk Lumber yields one of the most profitable and preferable outcomes for your woodlot. See why.
The price of your standing timber relates directly to a few different factors. They include:
Tree Species: Different species have different values, with hardwoods generally commanding a higher price than softwoods. See why!
Quality:

The quality of your standing timber is measured by length, straightness, clear wood content, and more, which all may impact the price.

Size:

The size of your trees (diameter and height) will play into the price of your standing timber.

Location:

Your woodlot's location can influence the price of your standing timber as well.
For an assessment and a quote, reach out to our dedicated timber buyers!